In Stock
This item will be ordered from our supplier. Once we receive the item it will be dispatched within
1-2 working days
From:
CarSpares (Cheshunt) Ltd
Checking Availabillity...
From:
CarSpares (Freezywater) Ltd
Checking Availabillity...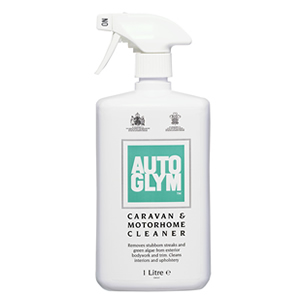 Caravan & Motorhome Cleaner 1L - Autoglym CMC001
By Autoglym Product Code: ATGCMC1L
In Stock
This item is in stock at our warehouse and is usually
dispatched within 1-2 working days
Description
Removes stubborn streaks and green algae from exterior bodywork and trim. Caravan & Morothome Cleaner is a concerntrated, multi-purpose cleaning solution designed for quick and economical year-round maintenance for leisure vehicles. Use on paintwork, plastics, metals, rubber, acrylics, fibreglass, wheels, windows, body trim, work surfaces, synthetic fabrics, carpets, hobs, washable wall coverings and similar surfaces.