In Stock
This item will be ordered from our supplier. Once we receive the item it will be dispatched within
1-2 working days
From:
CarSpares (Cheshunt) Ltd
Checking Availabillity...
From:
CarSpares (Freezywater) Ltd
Checking Availabillity...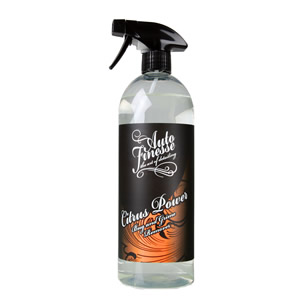 Citrus Power Bug & Grime Remover 1L - Auto Finesse CP1000
By Auto Finesse Product Code: ATFCP1000
In Stock
This item is in stock at our warehouse and is usually
dispatched within 1-2 working days
Description
A wax and sealant friendly, highly effective bug and grime remover suitable for both maintenance washes and thorough cleans. The gentle but effective formula removes contaminants with ease, without the need for scrubbing or deteriorating your car wax or sealant layers. Perfect product for sensitive applications, such as degreasing motorcycle engines, or cleaning the lacquered door shuts and enameled badges of classic cars. Also safe for use on paintwork, glass and plastic or polished wheels.
Bug and traffic film remover
Wax and sealant friendly
Citrus Scent
Suitable for engine bay degreasing and cleaning
Application:
Simply spray Citrus Power onto the affected area and allow to soak for several minutes. Remove the bug splatter and grime using fresh water from a garden hose or pressure washer