In Stock
Usually dispatched within
1-2 working days
From:
CarSpares (Cheshunt) Ltd
Checking Availabillity...
From:
CarSpares (Freezywater) Ltd
Checking Availabillity...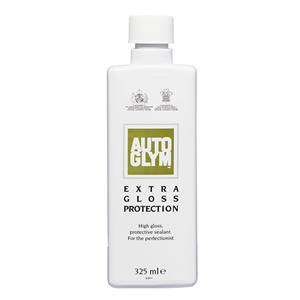 Extra Gloss Protection 325ml - Autoglym EGP325
By Autoglym Product Code: ATGEGP
In Stock
This item is in stock at our warehouse and is usually
dispatched within 1-2 working days
PROMOTION
10% Off All Autoglym, Auto Finesse and Meguiar's - use code SPRING10 at the checkout
Description
Extra Gloss Protection is a durable, easy to use sealant that forms a barrier, sealing polish in and dirt out. Treated surfaces are protected with a super-tough finish to keep paintwork looking brilliant for longer. This durable deep gloss film is suitable for all types of automobile paintwork, including metallic, clearcoat and waterbased finishes.