In Stock
This item will be ordered from our supplier. Once we receive the item it will be dispatched within
1-2 working days
From:
CarSpares (Cheshunt) Ltd
Checking Availabillity...
From:
CarSpares (Freezywater) Ltd
Checking Availabillity...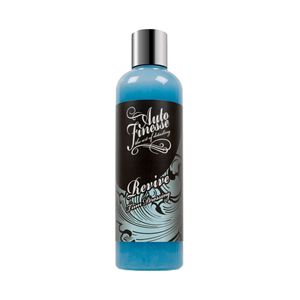 Revive Trim Gel 250ml - Auto Finesse RVT250
By Auto Finesse Product Code: ATFRVT250
In Stock
This item is in stock at our warehouse and is usually
dispatched within 1-2 working days
Description
A silicone-based trim dressing that brings life back to your exterior plastics, while being water resistant. The solution darkens and restores colour to the plastic trim, leaving behind a subtle satin finish that is dry to the touch, and will not run off in the rain. Helps to protect plastic and rubber trim from future fading, with durability that exceeds conventional water-based dressings. The silicone-polymers help to shield the trim from damaging UV-radiation and instill hydrophobic properties that help to repel weathering. Revive is resistant to regular washing, maintaining a factory fresh finish week after week.
Darkens and restores colour to exterior trims
Leaves a satin finish
Water resistant
Protects from future fading
Application:
Begin by cleaning the trims with an exterior all-purpose cleaner, like Auto Finesse Citrus Power, to remove old dressings and adherent grime. Once the trims are clean, dry them with a microfibre drying towel or air-blower, removing as much water from the panel gaps as possible to avoid drips. Give the bottle a good shake to integrate the ingredients, and apply Revive sparingly to a foam applicator, tyre and trim applicator. Using moderate pressure, work thoroughly into the trim, taking care to obtain uniform coverage. A little bit goes a long way, so try not to over-apply, though doing so will cause no ill effects. Allow the product to cure for 5-10 minutes until dry, and gently buff with a general purpose microfibre towel to reveal an even satin finish.