In Stock
Usually dispatched within
1-2 working days
From:
CarSpares (Cheshunt) Ltd
Checking Availabillity...
From:
CarSpares (Freezywater) Ltd
Checking Availabillity...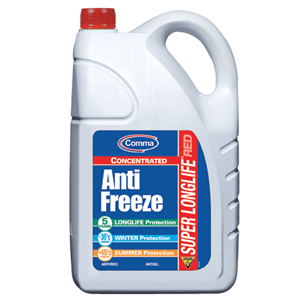 Super Long Life Anti-Freeze Concentrate 5Ltr - Comma SLA5L
By Comma Product Code: COMSLA5L
In Stock
This item is in stock at our warehouse and is usually
dispatched within 1-2 working days
PROMOTION
20% Off Comma Oil Products - use code COMMA20 at the checkout
Description
5 Years Longlife Protection. -36c (Ambient) Winter Protection. +45c (Ambient) Summer Protection. Pure concentrated ethylene glycol, silicate free with Organic Acid Technology. May be used in all petrol and diesel engines to provide outstanding Longlife-5 year Protection.