In Stock
This item is normally dispatched within
1-2 working days
From:
CarSpares (Cheshunt) Ltd
Checking Availabillity...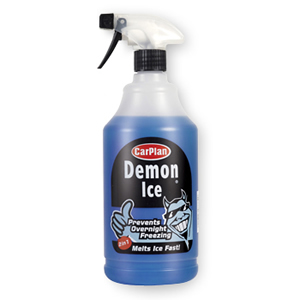 TETCDI001 Demon Ice Pre-icer/de-icer 1L Trigger Spray (Deicer) - Carplan
By Carplan Product Code: TETCDI001
In Stock
This item is in stock at our warehouse and is usually
dispatched within 1-2 working days
Description
Ultimate product to melt ice fast and prevent overnight freezing. Demon Ice is a unique new product that provides 2 functions from a single product, effective down to temperatures as low as -20C. Can be sprayed onto car windscreen the night before, and will help prevent ice forming overnight. Can also be used as high-performance de-icer.